Adventures in Positive Psychotherapy and EMDR
The casebook comes from my collaboration with Susan Hubbard, an experienced and highly respected therapist in Boulder, Colorado. In 2003, Susan came to one of my first workshops on Best Foot Forward. She later e-mailed some questions about the BFF protocol in relation to a client she was seeing. I replied, she wrote back, and thus began our ongoing contact and friendship, even though we were thousands of miles apart. Our back and forth e-mails with their detailed case notes became the foundation for this casebook. We have included the e-mails in the casebook (complete with date and time!) to give our readers a look inside the collaborative consultation that has enriched our work.
The BFF casebook is 173 pages and contains the following:
Twenty-three BFF case studies, organized by the eight steps in the protocol, including lengthy transcripts of what was said and done
Discussion of challenging clinical issues with reference to particular cases
E-mails with clinical vignettes from the day's work in the office
E-mails showing the origins of the "Change the Determinant" strategy for affect regulation
A case study called "Maria and the woman of shines" written by Irene Trajtenberg, EMDR Institute Facilitator in Brazil
A case study of BFF's use with a woman who suffered dissociative identity disorder, written by Barbara Maynard, MA, MFT in California
A case study called "Amanda: Can you revive the dead?" written by Lilian Palachi, LMHC in Florida
Two BFF case descriptions written by the clients themselves
Four case studies describing the use of BFF in tandem with standard EMDR
E-mails with speculations about BFF tapping into the right orbitofrontal lobe and the ventral vagal complex -- neural dynamics that possibly underlie the remarkable changes this positive protocol can generate
To see the Table of Contents from the casebook, click here.
To order an electronic download of the casebook ($14.50), click here.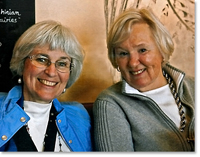 Casebook coauthors Susan Hubbard and Krys Kinowski.